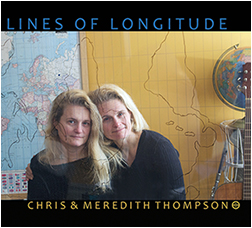 Chris & Meredith Thompson are twin sisters who perform acoustic music featuring guitar, percussion, flute, and sibling harmony.
SHOWS
Sunday, May 21, 2023 at 7:00pm Chris & Meredith Thompson perform at Passim with guest Joia Mukherjee.
Time: 7pm; doors 6pm Tickets: $20/$18
Live concert & ticketing link: https://www.passim.org/live-music/events/chris-meredith-thompson/

To be added to our email list, email chris [at] cmthompson [dot] com.
ABOUT
Chris & Meredith Thompson are "powerful performers with a natural warmth for the live concert stage" writes Tom Lounges in the Beat. Best known for the unique blend of their nearly identical voices, the Thompsons weave vocals, flute, guitar and percussion together creating a sound that is genuine, beautiful, and moving.
MUSIC
CDs
We have released seven recordings. We have a limited number of physical CDs of Lines of Longitude (2017) and Live (2004). If you are interested in purchasing a CD, email chris [at] cmthompson [dot] com.
Bandcamp
You can also find our music online on Bandcamp: Lines of Longitude | Chris & Meredith Thompson (bandcamp.com)
VENUES
Club Passim, Cambridge MA
The Bluebird Café, Nashville TN
The Tin Angel, Philadelphia PA
The Bitter End, New York NY
Rosebud, Pittsburgh PA
Eddie's Attic, Atlanta GA
Be Here Now, Asheville NC
Gray Eagle, Asheville NC
Outpost in the Burbs, Montclair NJ
Stone Soup Coffeehouse, Providence RI
The Gray Eagle, Black Mountain NC
Heartland Café, Chicago IL
Met Café, Providence RI
Amazing Grace Bakery, Duluth MN
The Wild Beet, Bloomington IN
FESTIVALS
Clearwater Revival, Hudson NY
Falcon Ridge Folk Festival, Hillsdale NY
Ithaca Festival, Ithaca NY
Kent State Folk Festival, Kent OH,
Three Rivers Arts Festival Pittsburgh PA
WUMB Festival, Boston MA
First Night, Providence RI
First Night, Hartford CT
First Night, Northampton MA
First Night, Boston
Thank you for supporting independent music!